You're Not Sexting That Girl You Found Online. He's a Dude. 
As a man who works online most of the day, I'm bombarded with Email spam, Friend Requests and various Ads from Women who are seemingly interested in me.  All this, without even having to look for them.  They pop in my email box or as Facebook Friend Requests and are just as quickly discarded as Spam. 
What happens when I am the one searching for a sexy chat partner? Good News. There are tons of them!
When you go online, you can find a plethora of people ready and willing to sext with you 24/7.  Most adult websites are overflowing with women who want to exchange Snapchat, Skype, Whatsapp, or Kik IDs. This is not only on Adult Websites. On Reddit, dirtyr4r is just one of many places where people seek partners, and it has over 740,000 members.  Notoriously, Facebook and Snapchat also host such Groups. At first glance, this seems encouraging.
It's easy to assume that there are plenty of Women looking for a Sexting Partner. After all, we live in an age where female empowerment is at an all-time high and, according to a Kinsey Institute study, over half of women are sexting.
What happens when you actually contact these horny women? Bad News : They're dudes just like you!
According to Salon, an alarming number of women you meet online will be men. The Dating Site Plenty of Fish closed its "Intimate Encounters" section after realizing it was "a bunch of horny men talking to a bunch of horny men pretending to be women".  Another  example, there are dozens of communities on Reddit dedicated to connecting people who are seeking sexting partners either by platform or by kink, but the introduction warns that there will be spam and mostly younger men participating.
Why is this?
Welcome to the world of eWhoring.
Sexting men online for money can be quite lucrative, which is why many men have started posing as women to cash in on the profits. Cosmopolitan estimates that eWhores easily make hundreds of dollars per week and more. Essentially, eWhoring is catfishing on steroids. 
But what's eWhoring?
eWhoring is a term for the practice of a man posing as a woman online who sexts with other men for money. According to Serene-Risc, eWhoring is when a man defrauds someone online by selling photos (usually nudes) of a young woman.
This is not just considered unethical, it's also illegal. The pictures these men use for sexting are often stolen, according to a BBC documentary. The person they defraud sends them money for the pictures. Not only do they typically not have consent from the woman depicted in the photos, but they could also be breaking copyright laws depending on where the content came from. Furthermore, since money changes hands, eWhoring also qualifies as fraud.
Since eWhoring isn't a legal practice, this means that no one checks the IDs of the content creator. Men can't even be sure the person in the photos or videos is of age, so they could unwittingly be collecting child porn.
---
Meet Bob, your new Sexting partner.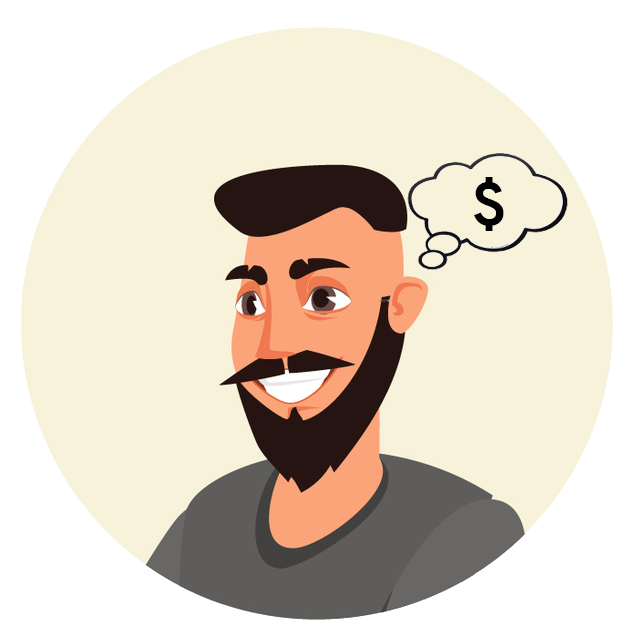 Bob, a guy whose Ethics are rather elastic, has time on his hands and is attracted to the idea of being a 'cyber pimp' to make money.  All he has to do is a few Google searches to find everything he needs.

There are now tutorials abound with tips on  how to get into eWhoring found on sites like Reddit. For the man posing as a woman, they typically buy "eWhoring Packs", which are sets of content including photos and videos of a particular girl. Then, they'll create a fake identity, complete with an email address, birthday, name, and backstory.
Here's a simple way for Bob to start eWhoring.
First, Bob needs to decide how he's going to collect money from his victims.  He can choose to get paid directly via Paypal or Cashapp. He may also decide he wants payment to Amazon Gift Cards.


If Bob was a bit more experienced, he could instead join an Adult Dating Affiliate Program, where he would be paid up to $50 by the Dating Company when his victims submit a Credit Card for a 'Free Trial'.  How would Bob earn so much if Customer does not pay right now? Simple – These 'Free Trials' are in fact a scheme where Customer agrees his card will be automatically billed in a few days while he is automatically subscribed to several other Adult Websites.  It's in small characters at the bottom of the Join page and the checkbox is pre-selected.  But horny guys may not be there to read through all the small print, nor are most people online.
Next, Bob needs images and video clips.  Ideally he should have a combination of selfies and clips. Finding eWhoring Packs only a Google Search.  These can be found on Tumblr, Torrent and file hosting sites like Dropbox or Mega then downloaded to their Computer/Smartphone.   Some are available for free via forums (mostly coming from leaks) and others are commercial picture sets where a girl  was actually paid to model, and will often contain images of her holding a blank sign. That is where the eWhore can add text to simulate an authentic verification picture. If Bob is good at Photoshop, he can alter the photos somewhat so that they can avoid a reverse image search, making his scam somewhat harder to spot.
With this simple setup, Bob can start fishing for clients. A simple Google Search for 'sexting forums' will show him dozens of websites he can join and start posing as a girl.  He opens forum threads making himself look like a "horny girl looking for casual fun".
A Basic eWhoring Conversation
Since Bob is a newbie, his techniques are quite simple.  But it works.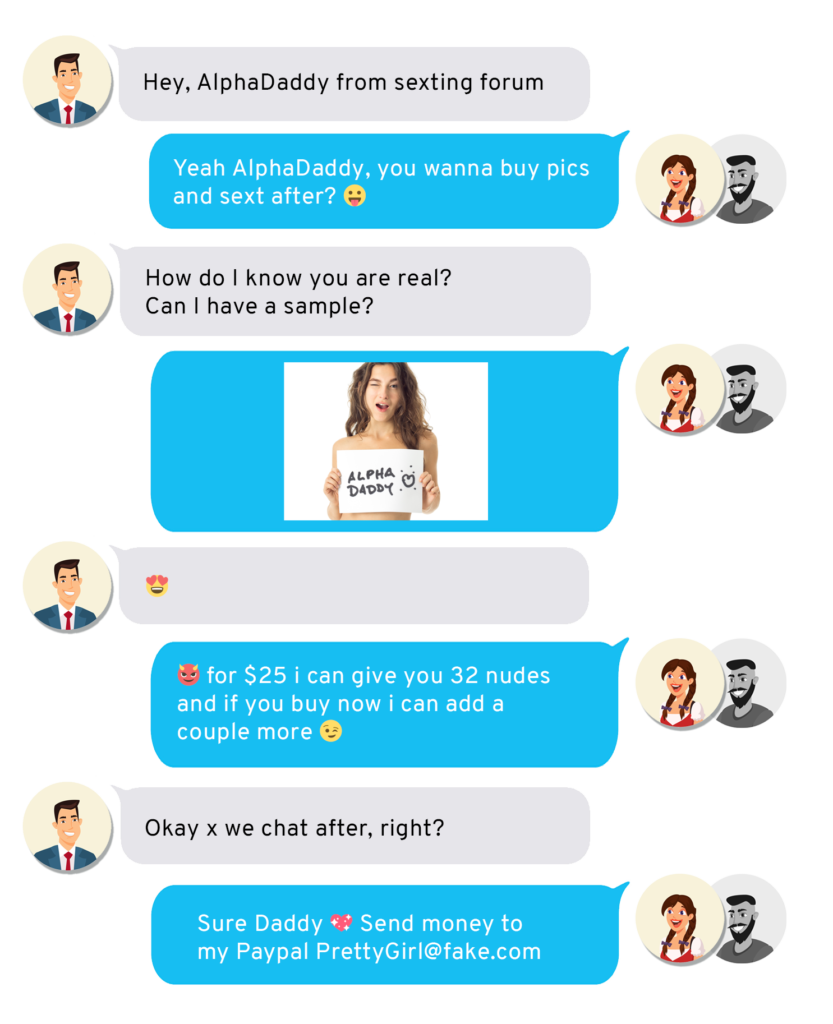 The Results
Bob earned $25 selling pictures he got for free.  He thinks he's a genius and decides this is going to become his full time job.

AlphaDaddy believes he had a real interaction with the girl in the photos.  He will keep on texting her and if Bob has more picture sets he will try to sell him more.  If Bob does not have more pictures, he will create a new account using other girls' images and contact AlphaDaddy again, since he's such a good client!

AlphaDaddy may even become attached to the idea of the girl he's been speaking with. He starts sharing how his marriage is failing, personal pictures of himself and so on…

As for the (real) girl whose pictures were used, she made zero money and 

there is often lasting damage
—–
Professional eWhores don't have the time to chat.  They use Bots or hire other dudes.
Bob is a newbie but he will learn fast. Hundreds of online communities and websites are dedicated to promoting eWhoring tactics openly. The active members of those sites share strategies to educate the newbie eWhores like Bob to excel in their career path. There are some social engineers who are selling the eWhore monetization methods for quick profits too.
Some advanced eWhores with technical abilities make use of classified and dating sites to find customers. They use the strategy of posting fake casual dating Ads with 'fwb' 'f4m' in titles and for the ad replies, they get emails in their inboxes. Once an ad reply hits the inbox, the autoresponder bot engages with the customer, sending him pre-made texts and finally the bot asks the person to 'verify his age' to date the girl legally.
After sharing a few emails, the bot will send a special link to the customer. Upon clicking that link, customers will end up at a nice landing page that has a free credit card authorization form. The website promises that it's only for age verification, but in reality it charges the customer credit card to multiple cam and porn streaming sites. If the customer is unwilling to proceed the auto bot sends out custom replies to convince him to return.
—–
eWhores are everywhere online.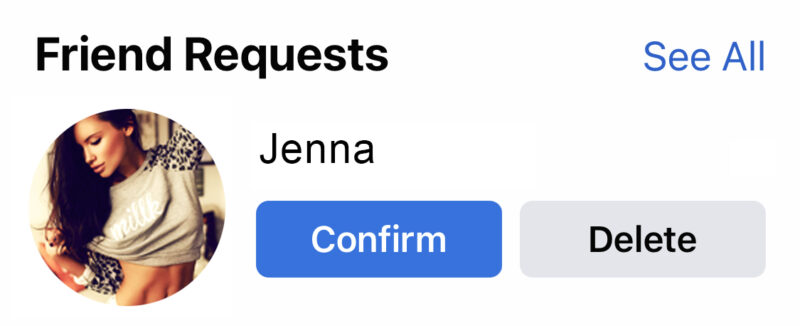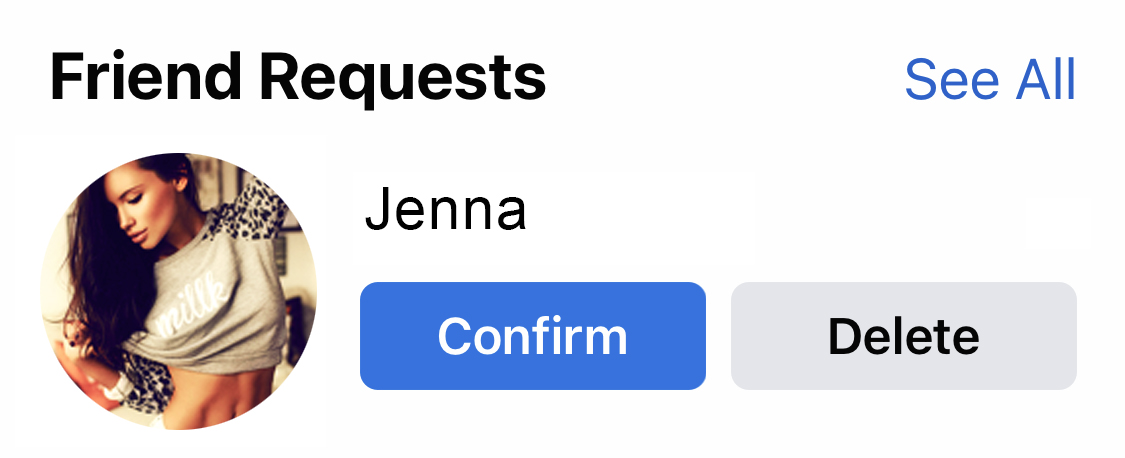 Not limited to typical adult chat rooms/sites, eWhores can be seen in gaming chat rooms and social networks too. They can be that 'girl' who wrongly sent a hi to your cell phone or an incoming message on Whatsapp or Telegram from an account with a girl profile picture. It can be that special online girlfriend on social media who asked you to check out her semi nude pictures safely guarded on a dating site that requires a premium subscription to access.

—–
How Can you Avoid Being a scam victim?
As a Man
Unfortunately, eWhoring is quite common because there is money to be made. So-called "romance scams" have been on the rise since the pandemic. With many people locked down away from their loved ones and experiencing unprecedented loneliness, it made for the perfect storm. According to Scientific American, over half of online daters believe they have been deceived, with 28% of them having had an interaction that they felt qualified as harassment.
Use Google Image Search to look up the pictures which are sent to you. All you need is to save the picture, upload it to Google Images and hit Search.  Sometimes you will find the same image on a model's Instagram Profile.  Do you think this hot model from Bulgaria with 2M followers is the same girl posing as Sabrina who's a College Student from New Jersey?
Ask to meet the person in the photos before sending any money. The best bet is to simply refuse any money until you've met the person. Of course, this means that you will have to limit your search for a sexting buddy to your local area.
If you can't meet in person, do the next best thing. Ask for a phone call or a live, one-on-one video chat. Keep in mind that some people hire women to be on the phone and pretend to be the voice of the person in the photos, so a video chat is best. It's also a good idea to ask them to do something specific so that you know you aren't watching a recording.                                                                                                                                                                                                                                                                                                                 

But then again, the eWhore Dude may be next to her and is paying her for her performance (or worse).  He may also record you and say hi after a few days.
As a Woman
If you're already working in the Adult Industry, especially as a Content Creator, chances are that some of your content is already available outside of your authorized accounts.  eWhores can grab it via widely documented leaks of platforms such as Onlyfans or via customers who simply join as subs and share all the content to others as a pool.  Leaked content is also available for Free on Pornhub.
It's always a good idea to search Google Images for your own pictures, especially the ones that are public.
No matter how these images or videos were leaked or stolen, If you find your content somewhere it's not supposed to be, you can report the page or account to its administrators who may (or may not) take action.

Another way of protecting yourself is to initiate a

DMCA Takedown

.