Cuckold Chat
Cuckolding has become incredibly popular over the years and it's at the point where it's even become a part of our mainstream culture. Breaking Bad, Billions, Ozark, Easy and You're The Worst (to name a few movies/tv-shows) all have depictions of cuckolding scenarios in them. Then there is the fact that cuckolding is one of the most searched categories on adult sites.
Then you also have the Hotwife category often being a close second in kink requests. It's no surprise to us at Arousr that these kinks are heavily requested time and time again for our chat hosts. That's why today I'm giving you your education on all things Cuckold and Hotwife related that will open your mind and give you more avenues to explore in your sex life. Both with and without your partner if you have one.
Being a cuckold used to be reserved for men who enjoyed being cheated on by their wives.  Both in-person while they watched their wives with others and when they were not present. In modern kink/fetish, practice being a cuck or roleplaying cuckolding scenario now transcends gender. The simplistic explanation is that one person enjoys watching their partner (wife, husband, boyfriend, girlfriend) be intimate with someone else. The idea of them sharing their most intimate moments with another is what turns their partner on most. At times even more so than being intimate with each other. This my friends is cuckolding at its finest and most erotic. 
Hot Wife Vs. Cuckold Terminology
It's good for first-timers to these curious kinks to get their terminology correct before they start to play with ideas. Here are the three main terms used in cuckolding to better understand what role you want to play in these scenarios.
Cuckold: Any gender of a person who enjoys watching their partner perform sexual acts with another person. These acts can be watched in person or be recalled to the cuckold in past tense with the implication of teasing them even further.
Cuckoldress: This term describes the male/female/other who is the one partaking in sexual acts while their cuckold watches. 
Bull: The bull in the world of cuckolding refers to the person with whom the cuckoldress is playing with. Again, this is not gender-specific and can by man/woman/other.
Hotwife is a married woman who openly has sexual escapades with other men, most often with her husband's full consent. It also is closely tied to a swinging/wife swapping lifestyle. However, it is important to realize that while being a Hotwife can mean you swing it doesn't mean you have to. A married woman who enjoys intense flirting and getting a lot of attention from other men while in public (usually while wearing very provocative clothing) is also part of the Hotwife fetish.
Another big distinction in the Hotwife kink is that it is based on a heterosexual relationship. Where the male husband enjoys his wife having to get sexual attention from other men. The husband also does not need to necessarily watch all these sexual encounters with other men. They mostly get off on knowing that their wife is adventurous and even slutty when they are not around.
Which role suits you best?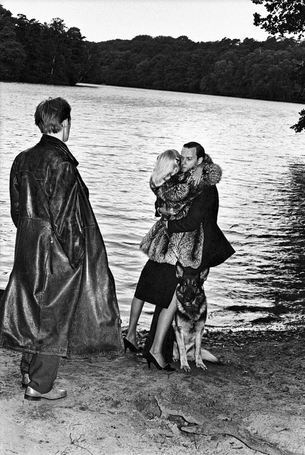 How To Start?
Your best practice for anything in life… Is practice! Luckily with kink, it's a much more adventurous way to get to know your inner pervert… or in this case your inner cuck. You will want to first start by watching some videos in the cuckold/hotwife category online. You will not be hard-pressed to find those online. However, if you want to start off tamer you can always refer to one of the series I mentioned in the opening paragraph for some hot, sexy cuckold scenes that are not XXX rated that also feel more realistic.
After you have established a visual the absolute best way to start is to get into roleplay sexting scenarios. This lifts all pressure off you trying to have "the talk" with your present partner (and if you do not have a partner you can still roleplay!). Luckily, you're already in the right place for this. The absolute best way to build up your confidence around broaching the subject of sharing your partner is to play with different ideas first.  Strike up a chat with one of our lovely hosts asking to play out your first cuckold/hotwife fantasy. 
Notice I made a point to say first cuckold/hotwife roleplay. This lets your chat host know you are new and exploring yet not quite committed to a particular fetish yet. It leaves room for you to change the roleplay subject to make sure you have an optimal sexting experience. See what arouses you most during the session. Are there keywords used that trigger your senses? Do you feel you want more? These are clear signs that you are ready to explore your more submissive/cuckold side with a partner in the future.
After you have a few steamy sexting sessions under your belt (see what I did there?) you will find you have more confidence to bring up the subject in person. When you know what you want it's much easier to get it. From that point, it's mostly about establishing who is playing what role, making sure you both have given consent, and having some clear boundaries as to how far things can go. Then the last part of this equation should be finding a bull. Most people think you need to find the bull first but it actually comes last to make sure you have covered all your bases first.
In Closing
Being a cuckold/hotwife does not always require a physical partner. Especially in times like these when it's very difficult to meet up with people outside of our households. You can have this fetish and never explore it in real life but have watched and sexted about it for ages. Which in turn gets you hot and satisfied with the fantasy of it becoming a reality one day. 
You can also have a cuckold fetish and explore it with multiple playmates at once! It's not about just a man and his wife anymore in cuckolding. It's about how much you as the voyeur get turned on by watching others you are with be intimate with each other. That's really what cucking comes down to at the end of the day. 
About the Author
I'm Femme Fatale, Fetish model, and Alpha Tamer. I have a vast knowledge and affinity for Fetish culture. You can find me every week writing for Arousr and if you're lucky you might even see me available to chat online about your favorite kinks! My favorite fetish is Domination.